Freshness Lunch Cafe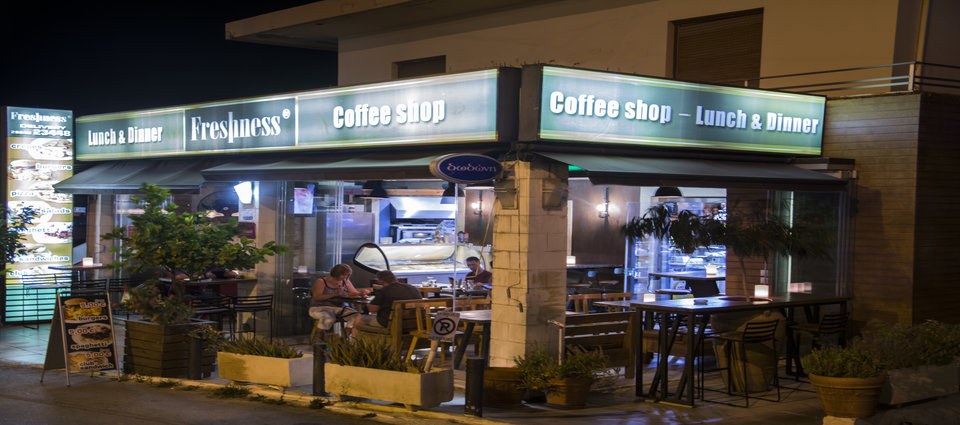 Freshness is a multi-taste café-restaurant ran by Ioannis Daskalakis. It is located on the 25th kilometre of Chania-Kissamos highway, west of Chania. Its activity started in 2002 aiming to offer to the wider area of Kolimpari and tourism all kinds of fast-food, combined with coffee, sweets, salads, pizza, spaghetti and several other delightful products of the highest quality and excellent taste.
Today, 15 years later, within the framework of the same philosophy, Freshness keeps evolving its products with dishes of unsurpassed taste and high quality using the purest food raw materials and unique recipes made in front of your eyes.
Who We Are
Our business constantly invests in the latest equipment, ergonomics of the customers' reception and customer service, and the selection of responsible and friendly staff, always aiming at the fastest, most efficient, but mainly human and friendly service of our visitors.
A large screen with countless satellite channels, pleasant music and comfortable dining tables in a representative of this kind of shop environment, as well as the smiles of the employees and owners will make your dining choices and your stay at Freshness a relaxing and enjoyable experience.
All our products (handmade pizzas, American-style burgers, Italian pasta, salads, crepes, croissants, flaky pastries, sweets , ice-cream , coffee, , fresh juice, e.t.c.) are made with strictly selected food raw materials within the safest conditions of hygiene and cleanliness. Not only a great variety of raw materials is produced by the owner himself, but also the award-wining extra-virgin olive oil from the area of Kolimpari is at the first line of our cooking.
The relationship of trust with the customer that will choose to visit us, the stable quality, the constant renewal and production of selected products are the main features of our business!!!
Our Staff